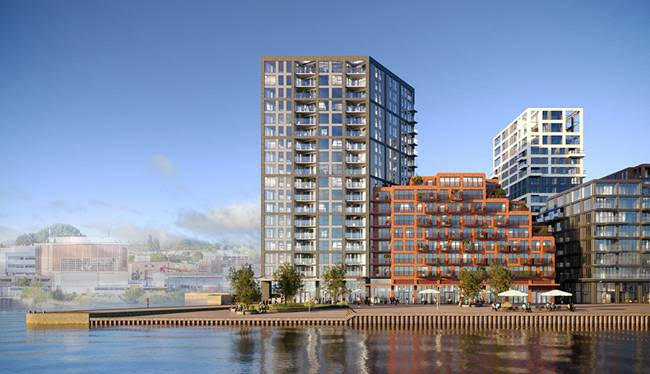 Hines has acquired Pontkade Phase 3, a mixed-use residential and office development within Amsterdam's NDSM-West regeneration area, on behalf of the Hines Pan-European Core Fund (HECF).
Hines will forward fund the mixed-use development, which will consist of 208 apartments for rent, alongside 1,600 square meters of office space and 800 square meters of ground floor commercial space for retail use. Designed by international architecture firm Moke, Pontkade Phase 3 features an 18-story residential tower and a seven-story office building.
The project is expected to complete by the end of 2022.
Amsterdam's NDSM is a large area of regeneration around the former shipping docks in the North of the city. Several major developments have already been completed, including the head office of retailer HEMA and an enhanced marina, alongside new homes, restaurants and bars. The world's largest street art museum will open in the next few months and, on completion in 2028, the NDSM area will provide around 5,000 homes.
HECF has acquired the site from BMB ontwikkeling, part of construction group VolkerWessels, and Reggeborgh Vastgoed, a private investment company. On behalf of VolkerWessels, BMB ontwikkeling is the lead developer in the NDSM regeneration area.
Since 2019, HECF has sought to increase exposure to residential and urban logistics assets in key European cities within its portfolio. The Pontkade Phase 3 acquisition represents the first PRS investment by HECF and further residential investments are expected to complete in the coming months.
Source : Company