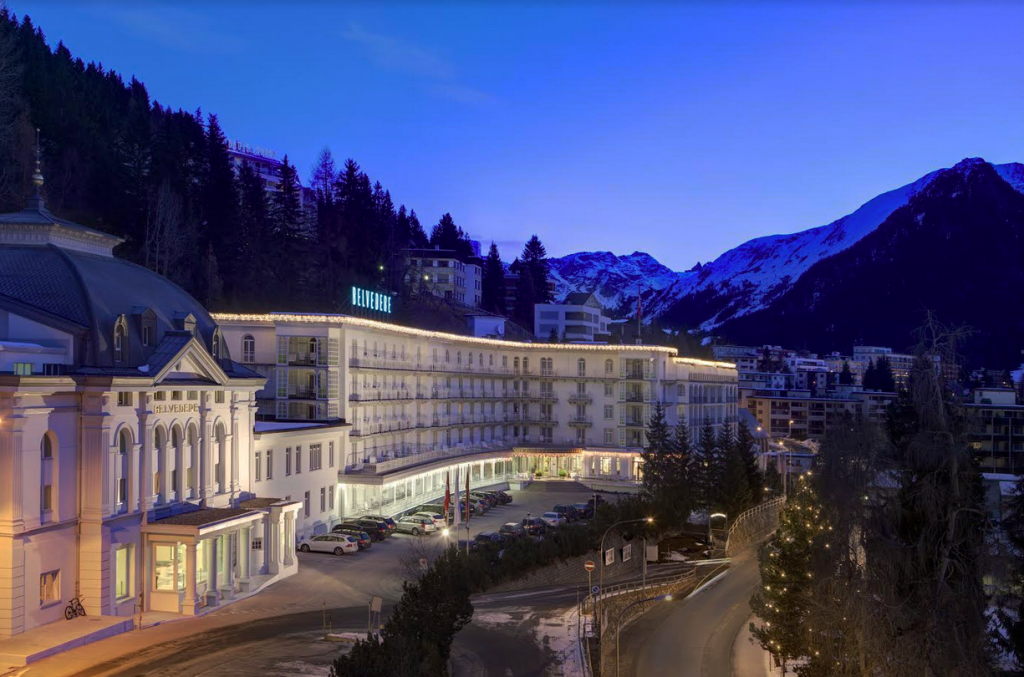 From 21 to 24 January, all eyes will once again be on Davos as visitors gather for the 50th World Economic Forum. No other event attracts so many high-profile political and economic representatives. Leading business experts, politicians and journalists convene each year to discuss current global issues, placing a particular focus on aspects relating to economic, trade and social policy. The glamour factor is also very much in evidence, and stars from the entertainment branch regularly make an appearance. The Steigenberger Grandhotel Belvédère is the traditional prestigious and luxury venue for this veritable parade of who's who. Over the course of the years, it has played host to an array of state presidents, CEO's and celebrities from all over the world.
The hotel stages more than 300 events during the days of the summit. Months of meticulous preparation are required to make this venture a success. Tents and pavilions are erected all around the site in order to achieve a temporary expansion of capacities and create additional facilities for the numerous functions. Even the health and beauty spa area is converted into a conference room, and the swimming pool is drained to provide extra space. The kitchen will be working flat out to produce almost 50,000 pralines and to make sure they are properly cooled. Around 16,800 bottles of water, 8,000 bottles of fruit juice, 5,000 bottles of wine and over 1,000 bottles of champagne will be served. During this time, about 300 staff will be on hand to look after guests. General Manager Tina Heide has been in charge at the Steigenberger Grandhotel Belvédère since 2017.
"During the Economic Forum, up to 8,000 people a day will be going in and out of our hotel," she explains. "The normal daily figure is approximately 250." Temporary employees are recruited in order to meet the huge requirements. These include teams from other Steigenberger Hotels & Resorts and external staff. Most help out every year, meaning that Tina Heide can rely on having a well-versed workforce in place. "The WEF is a particular highlight every year, but it also creates an exceptional circumstance which requires everyone to pull out all the stops," she adds. "I consider it a great privilege to be part of such a great team effort."
The "Grande Dame" of the Swiss mountains
Few hotels anywhere in the world are more steeped in history than the Grandhotel Belvédère. Located 1,560 metres above sea level in the sophisticated Swiss resort of Davos and offering fabulous views, it has been at the heart of social life in the town since first opening on 17 July 1875. After starting out as an elegant boutique hotel with 30 rooms, the "Belvédère" grew to become a Fin de Siècle-style romantic palace.
Steigenberger Hotels & Resorts is a Deutsche Hospitality brand. It represents the epitome of luxury and perfect hospitality. The portfolio includes 60 hotels in eleven countries in Europe, Asia and Africa.
Source : Steigenberger Hotels