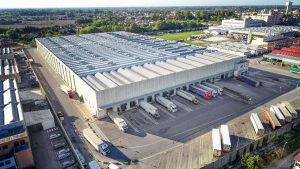 Real estate investor and fund manager, Cromwell Property Group (Cromwell), on behalf of Cromwell European REIT (CEREIT), has completed the acquisition of a logistics asset for approximately €20 million.
This fully-let freehold logistics asset is located in the strategic location of Mira, greater Venice, Veneto, one of the wealthiest regions in Northern Italy and a major manufacturing hub. The asset is served by the Mira-Oriago junction on the Mestre ring road A57 which connects to the A4 motorway and is in close proximity to four train stations.
The asset is a freehold, light industrial / logistics warehouse occupying a site area of 48,000 square metres. The asset consists of a 28,000 sqm warehouse with an external area of approximately 21,000 sqm. The warehouse is supported by 21 loading bays and an extensive automated system for goods storage and preparation. The built-to-suit asset is leased long term to its original tenant Reckitt Benckiser Group, a multinational fast- moving consumer goods company, with an equity market capitalisation of €46 billion and a S&P credit rating of A-.
Lorenzo Caroleo, Head of Italy at Cromwell Property Group, said: "We are delighted to have secured such a highly attractive off-market asset on behalf of CEREIT and to welcome Reckitt Benckiser Group to our tenant-customer roster. The Italian logistics market continues to remain attractive with demand driven by the continued appetite for good-quality, well-located assets which can support the manufacturing and production activities of global multi-nationals. During the last 12 months Cromwell has been a very active player in the local logistics market, securing first the DHL portfolio with the intention to seed its European logistics fund, then a logistics park in central Italy on behalf of CEREIT and now the asset in Mira. We expect to remain very active in the coming months as well, deploying capital in the sector as the opportunities materialise."
Source : Cromwell