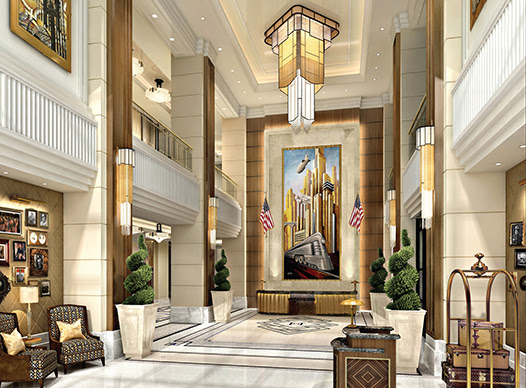 The National WWII Museum today announced the official opening of its landmark hotel property, The Higgins Hotel New Orleans, Curio Collection by Hilton. Located in the blossoming Arts and Warehouse District in New Orleans, the Hotel features 230 rooms, four dining outlets—including the city's newest rooftop bar—and 18,000 square feet of meeting and event space, all set with a tasteful Art Deco design. The Hotel is the first in the state of Louisiana to be part of the exclusive Curio Collection by Hilton, and all proceeds generated will support the ongoing educational mission of the Museum.
"We are thrilled to open the doors of The Higgins Hotel," said Stephen J. Watson, President & CEO of The National WWII Museum. "With its amazing restaurants and one-of-a-kind historical experiences for guests, we truly believe the Hotel will become a notable destination within the Arts and Warehouse District."
As an extension of the Museum, the Hotel sits directly on the campus of the city's top attraction and tells the story of World War II through the unique lens of design, decor, era-inspired menus and entertainment. Architectural firm Nichols Brosch Wurst Wolfe & Associates gave the Hotel its 1940s-themed details, drawing inspiration not only from the time period but also from Art Deco buildings found in New Orleans. Kay Lang + Associates led the interior design of the Hotel while working alongside Museum curators to hand-select artifacts from the institution's extensive collection to incorporate into the property's aesthetic. Among these artifacts are General George S. Patton's piano; the Higgins Boat Trophy, which was presented to General Arthur Trudeau for his service in the Amphibian Command; and a 1943 portrait of Andrew Jackson Higgins, for whom the Hotel is named.
.
.
---
About The National WWII Museum
The National WWII Museum tells the story of the American experience in the war that changed the world—why it was fought, how it was won, and what it means today—so that future generations will know the price of freedom and be inspired by what they learn. Dedicated in 2000 as The National D-Day Museum and now designated by Congress as America's National WWII Museum, it celebrates the American spirit, teamwork, optimism, courage and sacrifices of the men and women who fought on the battlefront and served on the Home Front.
Source : Company
.