Ingka Centres €7.3bn investment to transform its business remains firmly on track. Last year it announced a major new transformative vision to upgrade its existing portfolio for the next generation, create new mixed-use 'meeting places' in new markets and locations, and drive sustainability and innovation.
The company is already reaping the rewards of its ambitious upgrade programme, that is transforming its centres into modern mixed-use 'meeting places' that will be relevant for consumer lifestyles now and long into the future. Over the past 12 months Ingka Centres has unveiled new parks, arenas, F&B, entertainment, exercise areas, flexible workspace, playgrounds and more at its existing centres. It is also giving more stage to brands and concepts that excite visitors, complement each other, and bring together great ideas, products, services, and digitalisation to attract people.
Commenting on the success Gerard Groener, Ingka Centres Managing Director said: "We are co-creating new places based on community aspirations, local demands and demographics. Whether talking about our new city centre projects, or our existing centres we're investing billions of Euros to upgrade, one thing is for sure – we're getting ready for the future. Physical retail will never disappear, but we want our destinations to go far beyond shopping, providing experiences that can't be replicated online, and be sustainable mixed-use places local people have multiple reasons to visit. These reasons could be shopping, dining, leisure, living, exercise or working."
Over last 12 months, more than 200 international brands have joined Ingka Centres portfolio for the first time, which comprises 44 'meeting places' in Europe, Russia and China. A further 600 brands who were already Ingka Centres tenants have also opened additional stores within Ingka Centres portfolio or refurbished existing ones.
97 brands joined Ingka Centres portfolio in Europe including Disney, JD Sports and Bon Apetito. In China and Russia it welcomed 59 and 56 international brands respectively to its centres including Victoria's Secrets, Sony, DKNY Sport, EA7 and Carter's.
"Activity across our portfolio that is visited by 480 million people every year has been particularly strong. It's really positive, because it shows us brands support how we are transforming our business for the next generation. They believe the changes we are making will benefit them as they look to expand internationally. We are already seeing the impact of the changes we are making through visitation numbers and tenant sales which currently stand at EUR 6.7bn."
Ingka Centres also believes its focus on sustainability is driving engagement from both retailers and communities. Its people & planet positive strategy sets out its sustainability agenda through to 2030, covering how it will create new meeting places that are positive for both people and the planet. It sets clear targets for achieving zero waste, reducing energy consumption and customer travel. And the business has already significantly increased recycling and reduced energy consumption across its portfolio.
"Sustainability is at the top of our agenda – our customers and tenants rightly expect it, but above all, helping the environment is the right thing to do. Many tenants are also getting involved in sustainable schemes we are introducing across our portfolio. One example is Urban Farming that we are exploring at our centres. It's something that has become popular around the world because it helps people live in a more sustainable way. It can use any space for growing produce, saves water, is pesticide free and provides more nutritional product. We want to introduce it at our centres in partnership with our tenants – it's why we have a special Ideal Wall here at MAPIC where we are asking everybody to share their thoughts on how it can be implemented," Gerard Groener explained.
Sustainability is also at the heart of Ingka Centres vision for its new meeting places in markets like China, and for its first smaller format mixed-use city centre projects that are planned to be launched in 30 major cities around the world.
"All our new projects will be located, designed, and operated to be as sustainable as possible – through innovative smart design. For example, at our first urban project in Shanghai that will open in 2022, we are using green technology to improve air quality, water quality and reduce waste, alongside new public spaces. This is really important in a large city like Shanghai, and we are proud to be working towards the project achieving LEED1 and WELL certifications. We want all our new city centre meeting places to be close to public transport, but also pedestrian walkways and cycle routes," Gerard Groener commented.
In China, work to deliver Ingka Centres first urban projects is well underway. The company is offering brands new opportunities with its first Chinese urban projects – with a combined value of EUR 2.1bn – in the cities of Shanghai, Changsha and Xi'an. Set to open in the coming years, they will be true 'work, live, play, destinations' with features including IKEA inspired offices and apartments as well as retail and public spaces.
Finally, Ingka Centres is investing in digitalisation and innovation to create places relevant to modern consumer lifestyles. Introducing digital services like hands free shopping, loyalty programmes, and online communities that are enabling the company and its tenants to get closer to their customers.
"Customer journeys and expectations are changing, partly due to digitalisation. Physical retail increasingly needs to be centred around digital features and support the delivery of a more omni-channel customer experience. At Russian MEGA malls we have introduced MEGA Friends, a loyalty program that combines offline and online experiences for customers. While in China, what we call our 'Digital Mall' Wuxi LIVAT provides a seamless customer experience via WeChat, China's largest social media platform. Customers benefit from various online services such as VR navigation, restaurants online queueing, purchase points collection and redemption, parking fee e-payment, cinema ticket purchase and more.
"It gives people another way to engage with our centres and products. But it also enables us to collect data and be more in touch with our customers than ever before. In simple terms our centres are becoming tech powered, but still human driven places. It's just another example of how we're transforming our business," Gerard Groener continued.
Ingka Centres, formerly IKEA Centres, is part of the Ingka Group, formerly IKEA Group. The name Ingka is based on its founder's name, Ingvar Kamprad. Ingka Centres has more than 40 years of experience in shopping centres and today works with 1,600 brands across its portfolio. Centres locations appear under different trademarks, including MEGA in Russia and LIVAT in China, always anchored by an IKEA store. Ingka Centres hosts and serves more than 480 million visitors each year at its IKEA anchored meeting places. Ingka Centres creates its meeting places by collaborating with local communities, as well as its tenants and partners, to ensure they are destinations with emotional meaning that add value, and build social connections.
Pic  : LIVAT, China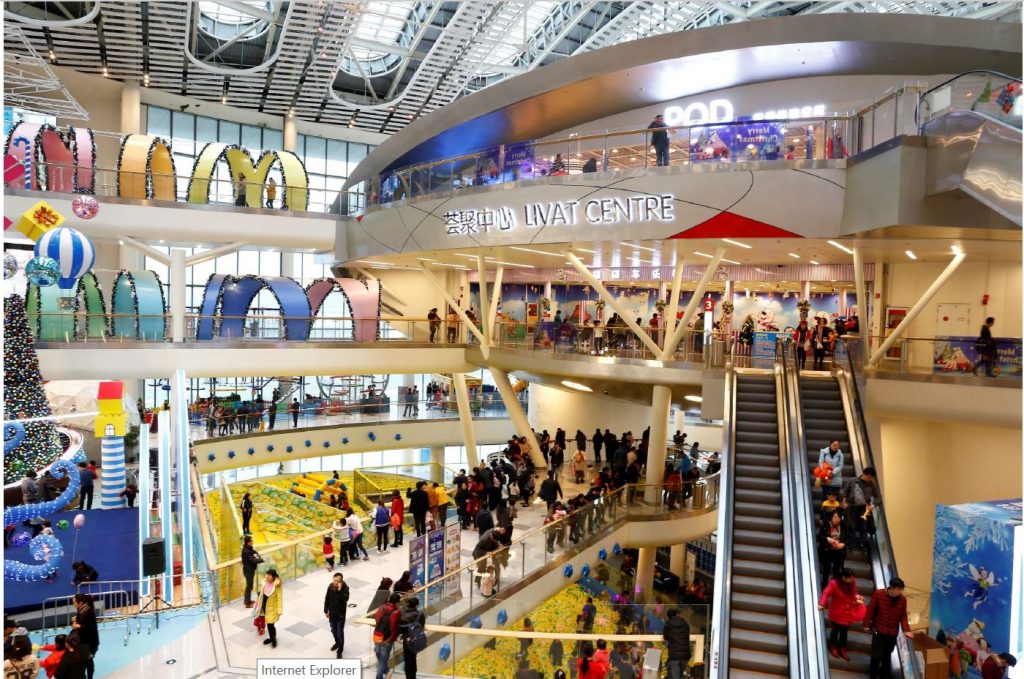 Source : Company