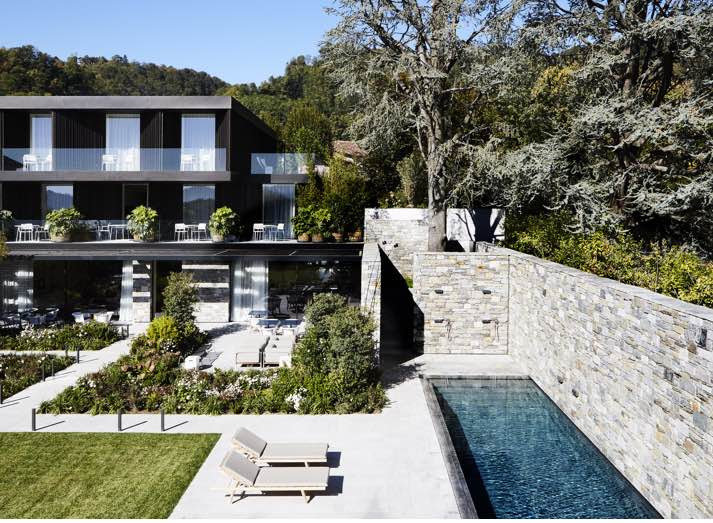 Casa Fantini is a stunning 5* concept hotel nestled in the historic Italian village of Pella on the shores of Lake Orta (pictured below), with views over the lake to the captivating medieval San Giulio Island. The hotel will reopen for spring 2021.
Undisputedly one of the most magical locations for a hotel, Casa Fantini is an intimate place of harmony where architecture, landscape and light blend in perfect balance and just for a moment, time seems to stand still.

Often overlooked for its bigger sisters Como and Maggiore, Orta is one of the most enchanting Italian Lakes -an undiscovered gem just an hour away from Milan. The lake itself has inspired many writers of the 18th and 19th Century including Lord Byron, Honoré de Balzac and Robert Browning.
Central to the ethos of the hotel is the concept of Lake Time. A stay at Casa Fantini is about slowing down, retreating from the world, taking in your surroundings and becoming at one with nature and the environment. Lake Time is about reading a book, meditating, listening to music, switching off from the pressures of day to day living.
Contemporary and elegant, the hotel has been designed by world famous Italian architect Piero Lissoni of Lissoni Architettura, who worked with hotel owner Daniela Fantini, CEO of Fantini Rubinetti, to interpret her vision for a hotel inspired by the slow pace of the lake.
The hotel is split between two buildings- one a X1X century house and the other thoroughly contemporary, resulting in a unique design with perfect symmetry.
The lake and its natural surroundings are the inspiration for Casa Fantini's interior. Lissoni's signature style is a blend of elegance and understatement. He uses warm materials such as wood and textiles integrated with iconic pieces of contemporary design ensuring all blends in harmoniously with the natural environment.

Casa Fantini is the brainchild of Italian designer Daniela Fantini who created the hotel to be a reflection of a family home. The Fantini family has lived on the Western shores of Lake Orta for more than three generations. The headquarters of Daniela's family business, Fantini Rubinetterie, which makes elegantly designed bathroom fittings, has been operating in Pella since 1947 with showrooms in Milan, Moscow and New York.
Casa Fantini has 5 Superior Rooms, 4 Prestige Rooms, and 2 Suites. All rooms have a view of the lake. Super Rooms have a spacious terrace with lakefront view overlooking the gardens and San Giulio Island. Not surprisingly given the owners design credentials, every room at Casa Fantini has stylishly innovative bathroom, featuring a shower cabin with a Turkish bath and chromotherapy.
Source : Company