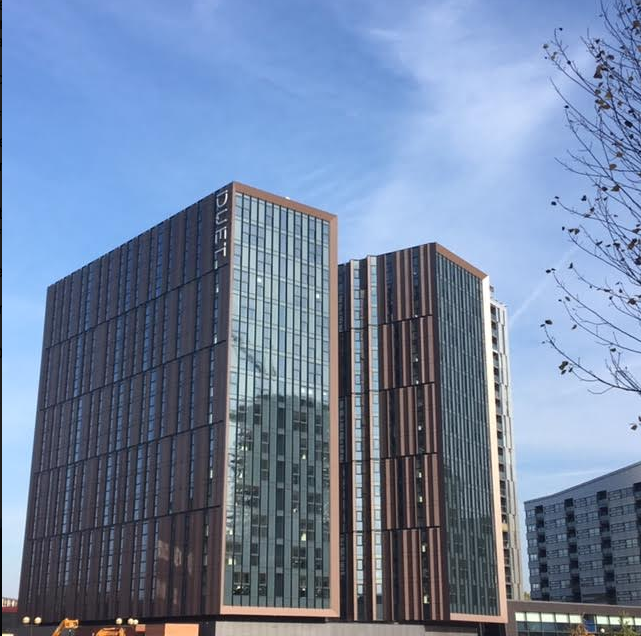 Moorfield, the UK real estate private equity fund manager, has launched its Build to Rent ("BTR") brand, More. to consolidate its extensive expertise within the sector into a distinct platform. Moorfield has developed and operated 1,200 BTR apartments since 2012 and intends to continue investing in the sector through the new More. platform. The most recent scheme to launch is Duet, in Salford Quays, adjacent to MediaCityUK and offering 270 apartments.
More. will complement Moorfield's activities in the student accommodation sector, where 6,800 beds have been delivered under the Domain platform since 1998, and in the senior living sector, where Moorfield has been an investor since 2008 through Audley, which now has 2,000 units in its platform.
Moorfield will continue to promote schemes with strong local brand names, using the successful 'Superenting' campaign, to appeal to local customers. More. will be the umbrella brand for all Moorfield's BTR activities to consolidate and help it communicate its overall sector activities to its stakeholders in the business community.
The More. brand will initially comprise three schemes, totalling 785 apartments: Duet and The Trilogy in Manchester and The Forge in Newcastle. They provide a mix of one, two and three bedroom apartments, fully kitted out with state-of-the-art appliances and designed to optimise space with market leading on-site amenities, including extensive shared resident facilities specifically curated to support co-working, wellness and socialising. Each scheme also benefits from ultrafast fibre broadband, strong transport links and a wide range of local amenities in close proximity.
All More. residents have access to on-site concierge teams, dedicated cycle storage, automated parcel lockers, electronic key security software for authorised visitors and a residents' app designed to allow hassle free reporting of maintenance issues. Residents can also take advantage of residents only social events including movies nights, homework evenings, gaming or dinner parties.
Sadie Malim, Head of Special Projects at Moorfield Group, said: "The More. branding encapsulates the work we have done to date across all the BTR schemes we manage to build rental offerings for the modern 'Superenter'. Our brand standards ensure that each scheme is designed both aesthetically and technically to appeal to the discerning and tech savvy customer with a strong focus on community and engagement.
"We have been investors in "beds" since entering the PBSA market in 1998 and have consistently led the market in identifying the needs of customers across the residential spectrum and innovating to fill the gaps. The More. brand will help us communicate our experience and intentions in the BTR sector, one where we have significant near-term growth ambitions.
"Duet is our second BTR scheme in the Manchester area and we are excited to welcome our first customers this week."
Duet is located adjacent to the bustling MediaCityUK, which is home to the BBC, ITV, University of Salford and more than 250 smaller creative and digital businesses, in a prominent position on the waterfront in Salford Quays, Manchester. Residents at the scheme will benefit from direct access to Harbour City station, which connects to the Manchester Metrolink system, as well as the strong existing local amenities near the site including 15 bars/restaurants, four shopping outlets, six leisure facilities, a cinema, a theatre, and a nursery.
The other BTR schemes operating under the More. brand are The Forge (Newcastle), which launched in November 2018, and The Trilogy (Manchester), launched in April this year and which is close to fully let.
Heiko Figge, Head of Operational Asset Management at Moorfield Group, commented:
"We're excited to now have over 500 BTR units operational in Manchester. With The Trilogy almost fully let less than seven months after opening, we are confident that Duet will also let up swiftly. The scheme is perfectly located to benefit from the growing prominence of MediaCityUK as a hub of technology, innovation and creativity, with over 200 businesses now calling it home."
All More. schemes are operated by Allsop Letting and Management. For further information, please visit
.
Moorfield Group is a leading boutique UK real estate private equity fund manager with a 23 year track record of investing across most sectors of UK Real Estate. Moorfield is especially well known as a vanguard investor in emerging sectors and has pioneered investment in student accommodation (6,800 beds since 1998), Build to Rent/PRS (1,200 units since 2012) and senior living (over 2,000 units completed/underway since 2008). Moorfield also has an extensive track record in successfully identifying evolving investment themes in the office and industrial/logistics sectors.
Moorfield operates under an investment and asset management structure that enables it to be a vertically integrated (in-house) asset manager to the assets invested in, or to be a capital allocator using strategic outsourcing to proven operational/development partners. Moorfield's in-house expertise and track record of partnerships uniquely positions it to identify and deliver high returning investment opportunities.
Since 2005 Moorfield has raised five private equity real estate funds; four Moorfield Real Estate Funds (MREFs) together with a dedicated senior housing platform, Moorfield Audley Real Estate Fund (MAREF).
Source : Company