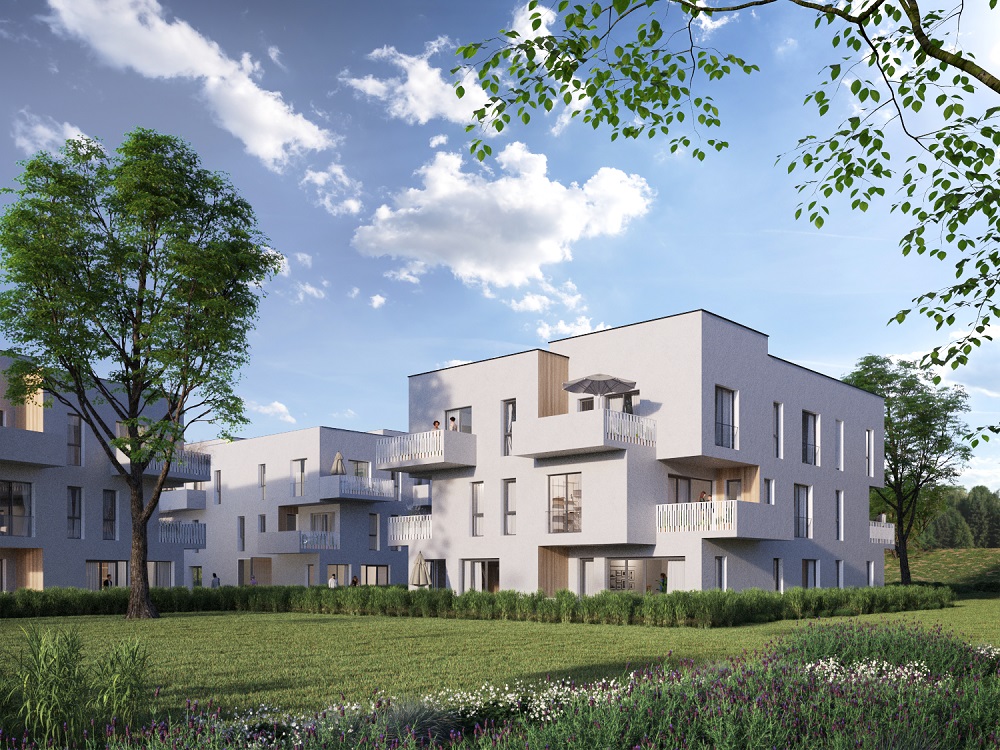 Trei Real Estate GmbH , a developer and property asset holder for residential and retail real estate, is making good progress with its residential project "Bacciarellego 54" in Wroclaw. Within the framework of the first construction stage, 62 apartment were just completed. Half of these have already been sold. In a parallel move, Trei has kicked off sales for another 27 apartments that are part of the second construction stage. Works on this second construction phase is expected to begin during the third quarter of 2020 and to be concluded by the end of 2021. The "Bacciarellego 54" project will continue with further construction stages, and ultimately deliver a total of 280 apartments.

Pepijn Morshuis, CEO of Trei Real Estate, commented: "The completion of the first construction stage marks an important milestone for this large-scale project. With 'Bacciarellego 54,' we are creating residential accommodation in one of the greenest and most popular parts of Wroclaw. We are noting strong demand for apartments, and this despite the constraints caused by the coronavirus crisis. Trei implemented measures on location to ensure that customers get all the information they need even without direct personal contact. For example, there is the option to engage in video chats with our staff on the ground. Another option is to place digital apartment reservations online."
The development is located in Biskupin-Bartoszowice, a district in the eastern part of the metropolis. The quarter counts among the preferred residential areas of the city, which is the capital of the Lower Silesia voivodeship. The first construction stage includes a total of 62 apartments of two, three or four bedrooms. Sizes range from 37 to 111 square metres. The 62 apartments are spread across two buildings of four stories each.

By contrast, the second construction stage will include three high-end townhouses that break down into a combined total of 27 apartments. The two-, three- and four-bedroom flats range from 41 to 81 square metres in size.

Trei is planning to build a total of 1,600 residential units in Poland in the years ahead. In late March, for example, the company launched the sales drive for the apartments of a development in Lodz. Pepijn Morshuis commented by saying: "In addition to Wroclaw and Lodz, we secured additional plots of land in Warsaw and Poznan. Trei focuses its residential construction activities in the country's major cities, such as Warsaw, Krakow, Gdansk, Poznan or Lodz. The Polish real estate market is highly attractive for us as developers. Modern apartments are in short supply in Poland, which is why demand is so strong."

Trei Real Estate GmbH, a German real estate company with registered office in Mülheim an der Ruhr, acquires, develops and manages customised and sustainable residential and retail properties. A wholly-owned subsidiary of the Tengelmann group, it concentrates on real estate investments and developments in Germany, Poland, the Czech Republic, Slovakia, Portugal and in the United States within the framework of a long-term strategy. In addition to its proprietary portfolio worth c. 1.2 billion euros, Trei Real Estate GmbH has c. 900 million euros worth of developments in the pipeline. In the Czech Republic, Slovakia and Poland, the company develops, raises and lets retail parks under the Vendo Park brand. Also active on Germany's residential market, e.g. in Berlin, Trei currently develops residential quarters combined with commercial premises as well as student apartments under the Quartillion brand. The company's residential activities outside Germany include projects in the Czech Republic, in Poland and in the United States.
Source : Trei Real Estate